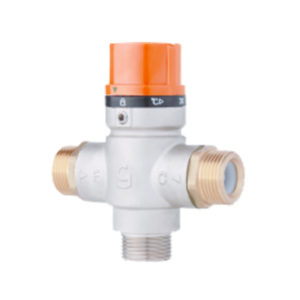 Mitigeur thermostatique, applications et avantages
Mitigeurs avec corps en laiton et cartouche métallique adaptés pour les installations de production d'eau chaude sanitaire solaires, 1 clapet OV20, 1 clapet OV20HT et chapeau orange. Débit 30L/mn - Plage de réglage température entre 30 et 55°C. Température maxi = 110°C pour le mitigeur complet. Résistance en continu = 127°C pour le clapet OVHT (pour eau chaude). Avantages :
Protection anti-brûlure et anti-légionelle Augmentation de l'autonomie en eau chaude
Économie d'eau
Longévité des installations grâce à l'ajustement de la température
Les points forts :
Laiton massif norme EN CW617NCartouche métallique à élément de cire
Robuste et compact
Montage et réglage sans outils spéciaux
Filtres et clapets anti-retour intégrés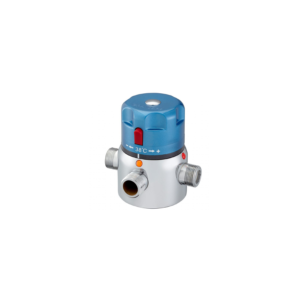 Thermostatic mixing valves, applications and advantages.
Thermostatic mixing valves
are fitted to domestic hot water installations and allow action on a desired temperature. There are two types :
ST : thermostatic mixing valve for supply point with mixed water at 38°C (adjustment range: 32-45°C) with blue adjustment ring.
SE : thermostatic mixing valve for hot water distribution in the circulating loop > 55°C (adjustment range: 45-60°C) with red adjustment ring.
It is possible to change the direction of the mixed water outlet. Our mixers are equipped with an "anti-scald" safety mechanism. Equipment for 1 to 21 health posts.